Comfortable Ocean Going Sailing Yacht
42′ Catalina Mark II well equipped for Ocean Sailing
Among the newest Sailing Vessels for charter
Offers accommodations for 6 guests
Friendly Captain and Crew
Venere is a 42 foot Catalina ocean going sailboat. Up to six passengers are permitted on board. Her cockpit is very comfortable and safe. She was new in 2007 and is maintained in excellent condition. This first class yacht's safety equipment exceeds Coast Guard regulations.
Meet Captain Don Marchi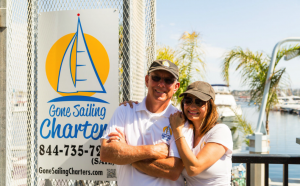 Captain Don is a retired US Naval Engineer, Machinist, Mate First and Class (Surface Warfare Specialist).  During his Navy career, he excelled in the organization, management, and team building.  He is a 4.0 sailor who thrives on learning and experiencing new adventures.
Don Marchi retired from U.S. Navy service in 1995 after completing six deployments, earned 2 Navy Achievement Medals and a Unit Citation.
As a civilian, Don Marchi's professional dreams were focused on software development. After (3) years of study, he earned his degree in Computer Information Science at Coleman University in San Diego, CA.  Don Marchi's software career was rewarding and let him create his dream of owning a Yacht chartering service.
Captain Don Marchi shares the romance and dance between the wind and the sea with the cruisers on Gone Sailing Charters. He enjoys sharing his free time with his kids and a loving wife Cristina here in San Diego, CA.